Rain Forest Camping by the Waterfall in Kitulgala Rain Forest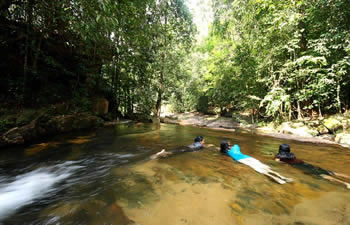 Inside the jungles of Kitulgala there are plenty of camping opportunities which can be coupled withWhite Water Rafting, Bird Watching, Jungle Walks, River bathing and many adventure activities. If you are looking at a adventure and leisure base close to Colombo, Kithulgala is THE PLACE. Being so close to Colombo if you stay for one night you would be able to do many adventure and leisure activities such as White Water Rafting, Bird Watching,Walking in the Jungle, Visiting pre historic caves, Bathing in the river, Trekking to Waterfalls, Adventure Jumps and slides in natural ponds, River Expeditions, Rain Forest Walks and Trails, Flat Water Rafting, Waterfall Abseilling, Mountain bikingetc. Our Rain Forest Campsite is located in the Jungles of Kitulgala near small scenic waterfall where you can have a relaxing holiday by the water. All you have to do is sit back and relax while we cater to all your needs. The Campsite is setup prior to your arrival and is fully staffed. We serve you all meals, beverages and facilitate all activities during your stay at our Rain Forest Camp by the Waterfall. When you are on activities we serve you picnic meals. When you return back to the campsite you can have a refreshing bath in the stream just in front of your tent. In the night the whole campsite will be lit up with lanterns and we serve BBQ Dinner amidst a roaring campsite. .
White Water Rafting in Kitulgala
Experience White Water Rafting in the picturesque Kelani River, covering 5 major rapids and 4 minor rapids. This activity is for anyone above the age of 10 years with safety gear, modern rafts, and a comprehensive safety briefing will be given by our white water rafting instructors beforehand. The distance covered is around 5 KMs. The river and its surrounding will make you feel enchanted, with a memorable Experience during your White Water Rafting Tour in Kitulagala. Rumassala in Unawatuna is a large mound-like hill, which forms the eastern protective barrier to the Galle harbour. Local tradition associates this hill with some events of the Ramayana. Rates for White Water Rafting in Kitulgala Rate Per Person for white water rafting 05 KM - US$ 35 Rate Per Person for white water rafting 08 KM *This is not for the beginners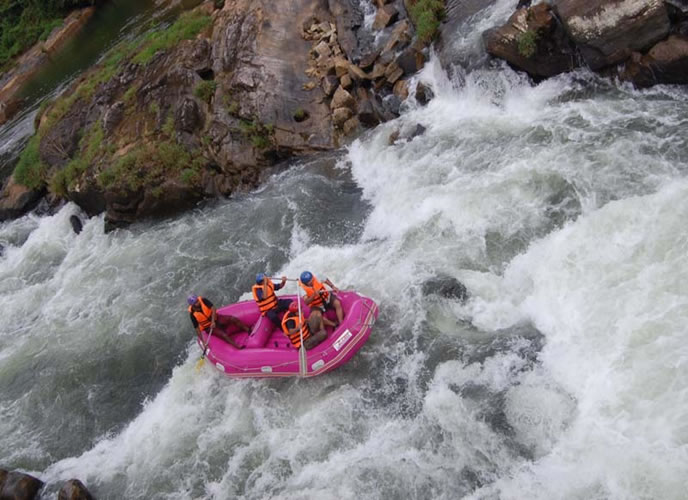 Canyoning in Kitulgala (Confidence Jumps and natural water stream slides)
The trek to natural rock pools and waterfalls of kataran-Oya" -1.5KM. There are 7 natural pools which are extremely beautiful and a gift of nature where you will be able to experience below activities. Sliding down an inclined 05 meter water fall with safety gear, in to the rock pool A confidence jump with safety to beautiful natural rock pool Swimming in the cool and clean waters of the rain forest Rates for Canyoning in Kitulgala
River Trips and Expeditions in Sri Lanka
Mahaweli, Kelani and Kalu, River Expeditions offer raft, canoe, and kayak access to the natural areas along the Rivers. These wooded and open natural areas shelter a variety of native plants and animal life such as birds (endemic, Native and migrant) and contain many other features like historic bridges and river crossings and Elephant corridors. Raft travel is the easiest way to visit these areas and we provide the equipment, transportation and information to set up your river trip in Sri Lanka. Along the river many things yet to be explored. You will enjoy world-class rivers in small groups withAccommodation in tents, unparalleled personal service, organic meals, and guides with 8+ years of experience leading trips around Sri Lanka. Whether you're a first-timer or an experienced peddler, join us for a river trips in Sri Lanka like you have never experienced before.
Our goal is to help you plan the perfect trip to this beautiful island...! Inside you will find lots of tourist information of Sri Lanka!
Book your tour now